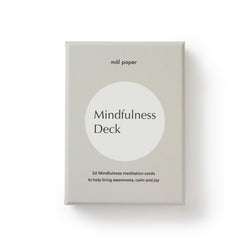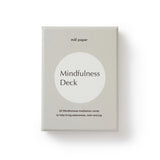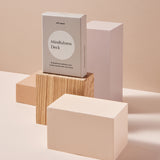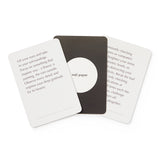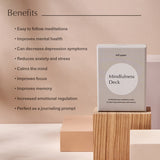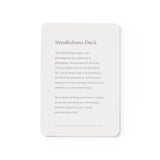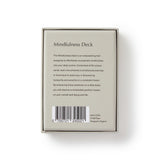 Mindfulness Meditation Card Deck
Worldwide Delivery

Money-back Guarantee

One tree planted for each order
A deck of mindfulness meditation cards to help regain a sense of calm and clarity.

The card deck is made up of 52 different mindfulness exercises to help you throughout the day. They serve as the perfect reminder to make mindfulness meditations part of your routine.
52 cards
70x100mm - 2.8x3.9"
400 gsm
Our processing time for dispatching orders is 1-2 business day from when the order is placed. Please note that the dispatch cut off time is 9am GMT, and orders placed after this time will be dispatched the following business day.
All orders are sent with tracked delivery as standard. You will receive a tracking code via your order dispatch confirmation email. If you have not received your code, please first check your junk mail folder before contacting support@malpaper.com.
See below our expected delivery times. The below times do not include the processing time.
 UK

Standard
2-3 

Business

 days
Express
1-2 Business days
Europe
Standard
3-5 

Business

 days
US

Standard

5-7 Business days
Canada

Standard

5-7 

Business

 days

Australia / NZ

Standard

6-10 

Business

 days

*The shipping times given are based on estimations provided by our couriers. We cannot guarantee that orders will be received within this time frame. Please allow up to 30 days for your order when selecting standard shipping terms; this is a tracked service and you should have received your tracking code in your shipping confirmation email.
UK delivery
Please note that we do not offer Saturday express delivery, and so if an order is placed on Thursday with Express next day delivery after the cut off time that the order will be delivered on the following Monday.

Free standard shipping on all orders over £70 within the UK.
International delivery
As your order is shipped DDU (Delivered Duty Unpaid), orders being shipped internationally may incur duties, fees and import taxes upon delivery. This charge is determined by your local customs authority and must be paid to your local carrier or government in order to receive your order. These fees are not collected by Mål Paper. Mål Paper is unable to refund any additional duties, fees, or import taxes.
The shipping cost is based on weight and can be calculated at checkout.
Unfortunately, we are unable to offer a refund on postage if orders arrive outside the estimated time frame, as this is out of our control. An item being sent to Europe is only considered lost (refund will be issued or replacement offered) if it's not delivered within 20 business days after the date it was due to be delivered. For an item going to the rest of the world, it's 25 business days.
*Please note that Mål Paper is NOT able to ship to the following countries due to shipping complications: Afghanistan, Albania, Algeria, Angola, Azerbaijan, Bahrain, Bangladesh, Belarus, Benin, Bermuda, Brazil, Botswana, Bulgaria, Cameroon, Cayman Islands, Central African Republic, Chad, Chile, China, Colombia, Comoros, Cook Islands, Democratic Republic of the Congo, Republic of the Congo, Cote d'Ivoire, Cuba, Cyprus, Djibouti, Dominica, Dominican Republic, Egypt, Eritrea, Ethiopia, Gabon, Gambia, Ghana, Guinea, Guinea-Bissau, Guatemala, Guyana, Haiti, Hungary, India, Indonesia, Iran, Iraq, Kazakhstan, Kenya, Kiribati, Kosovo, Kuwait, Kyrgyzstan, Laos, Lebanon, Liberia, Libya, Macedonia, Madagascar, Malawi, Maldives, Mali, Malta, Marshall Islands, Mauritania, Micronesia, Moldova, Mongolia, Montenegro, Morocco, Mozambique, Myanmar, Namibia, Nepal, Nicaragua, Niger, Nigeria, North Korea, Oman, Pakistan, Papua New Guinea, Palau, Paraguay, Palestine, Peru, Philippines, Qatar, Russia, Rwanda, Saint Lucia, Saint Vincent and the Grenadines, Saudi Arabia, Senegal, Serbia, Seychelles, Sierra Leone, Somalia, South Africa, South Korea, South Sudan, Solomon Islands, Sri Lanka, Sudan, Suriname, Swaziland, Syria, Taiwan, Tajikistan, Tanzania, Timor-Leste, Togo, Tonga, Trinidad and Tobago, Tunisia, Turkmenistan, Tuvalu, Uganda, Ukraine, Uzbekistan, Vatican City, Vanuatu, Vietnam, Venezuela, Yemen, Zambia, Zimbabwe.
52 Mindfulness meditations

Simple to follow

Clarity and focus

Stress relief

Daily journal tool

Tree planted for every order
Mindfulness Techniques to Stay Present Each Day
Mindfulness has become so popular in recent years that everyone from professional athletes to CEO's are implementing mindful moments into their days to improve their wellbeing and performance.
But why exactly is mindfulness so highly regarded? Read on to see why, and the powerful techniques used to help stay present each day.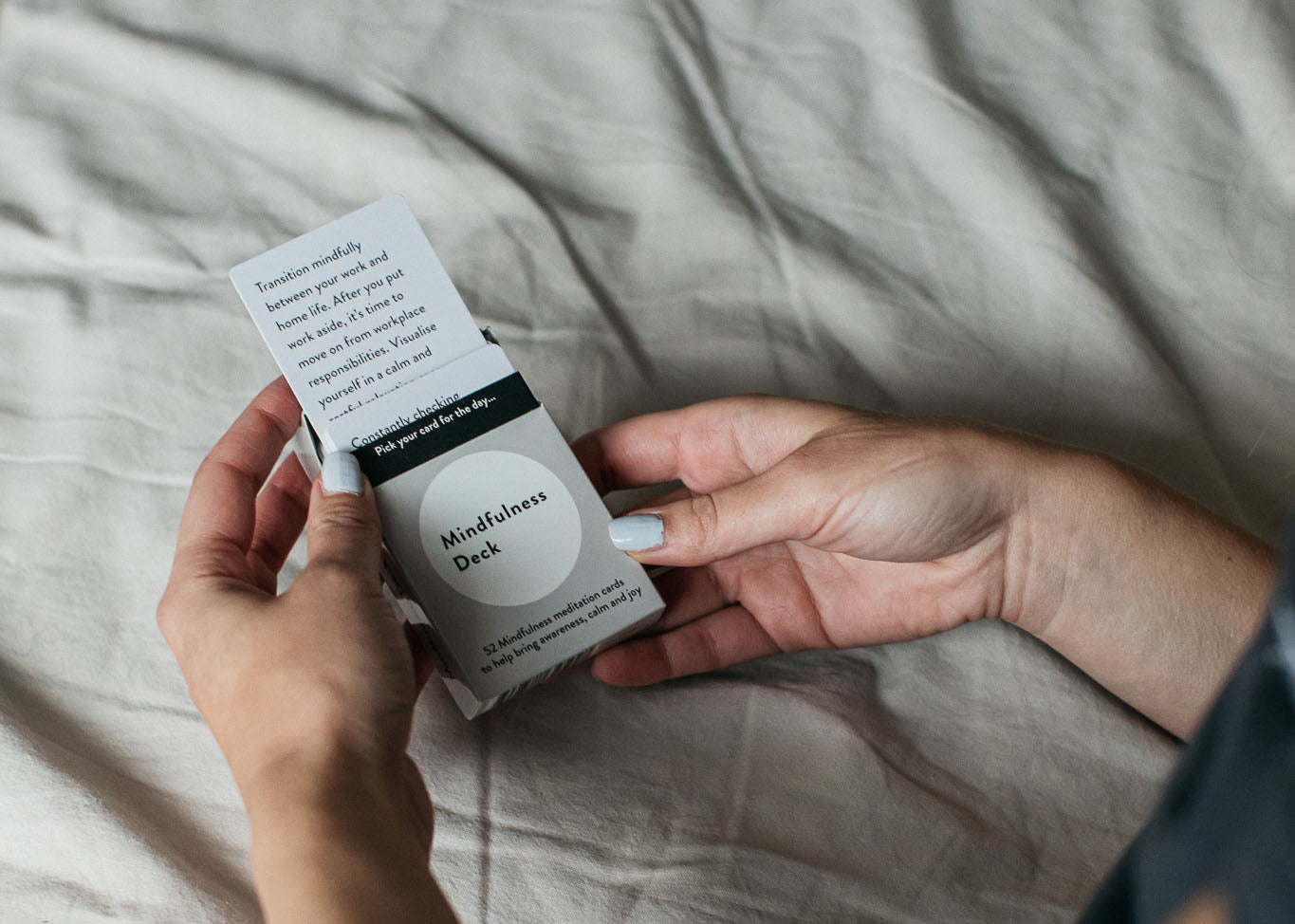 Mindfulness Meditation Card Deck
Helping to improve my mindset
Love these cards. Very good quality and arrived in good time, sufficiently packaged. These cards are thought provoking and have helped my mindset to improve.
The importance of mindfulness
Mindfulness has been shown to help aid positive mental health, but it also allows us to have an improved perspective of the world and our surroundings. This clearer perspective on the world can result in a more fulfilled, compassionate, and happier life.
Click here to read our articles on mindfulness.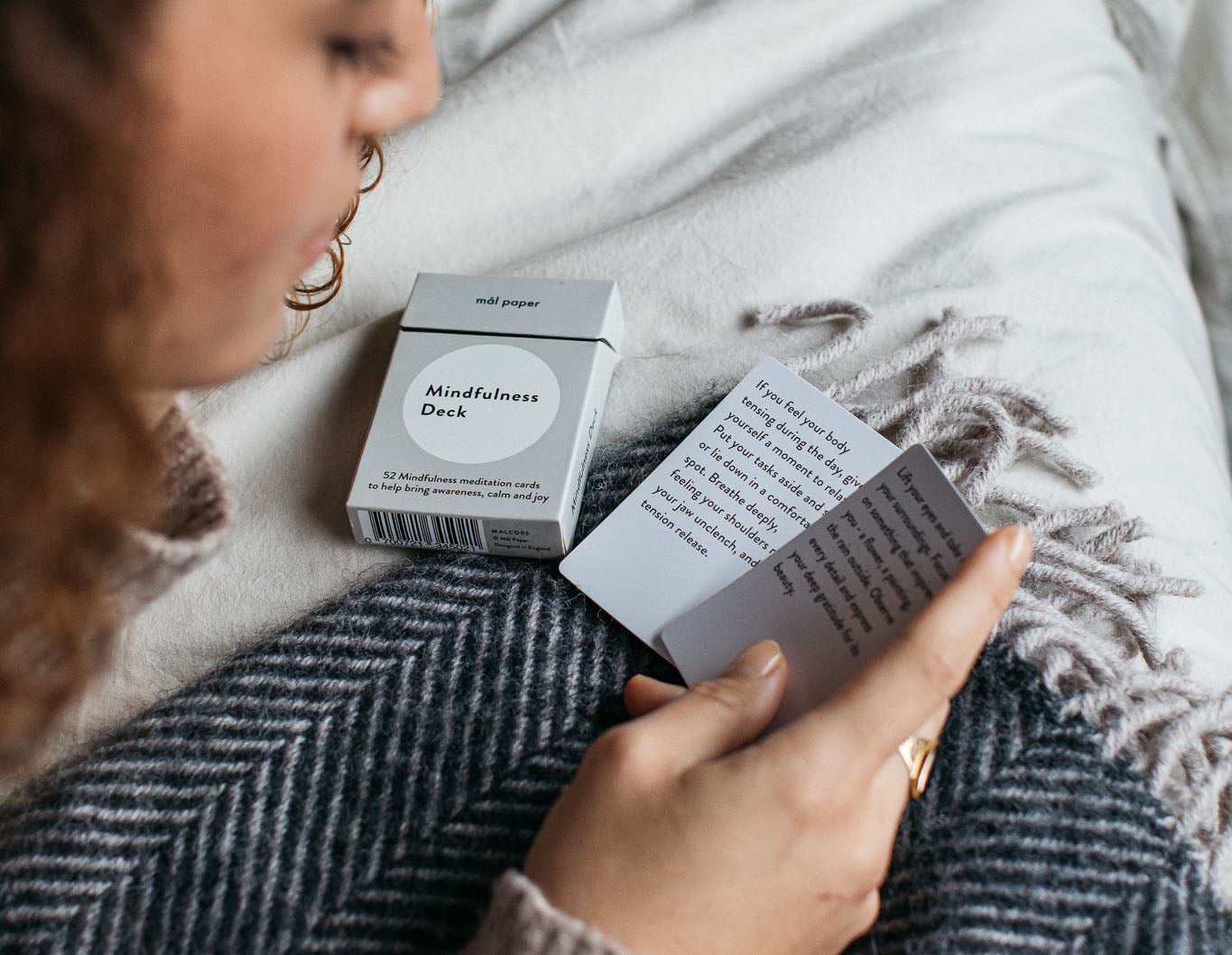 Mindfulness Meditation Card Deck
Helping to improve my mindset
Love these cards. Very good quality and arrived in good time, sufficiently packaged. These cards are thought provoking and have helped my mindset to improve.